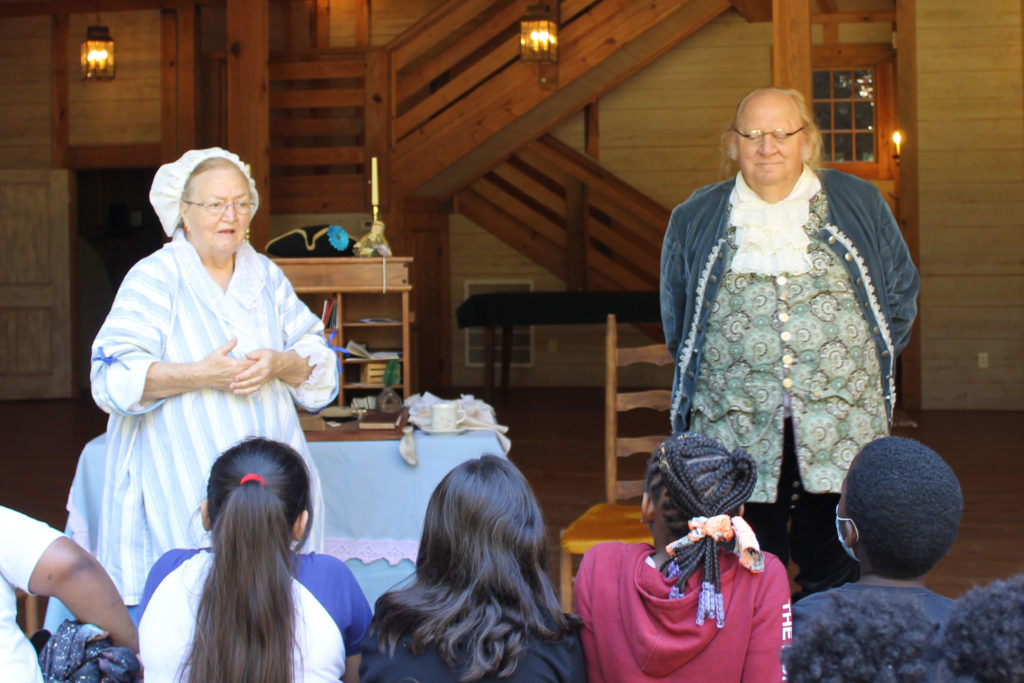 Education Days are special days set aside for students in grades 3rd through 6th.  Students will watch our colonial past come to life through demonstrations and living exhibits.
The events take place the Friday before our two major events.  The dates for the next two events are:
"A Day to Remember"- Oct. 20, 2023
"Under the Crown"- April 19, 2024
What to Expect
If you have a large group, you will be divided into smaller groups for the event. There will be demonstrations and presentations throughout the park. Groups can choose what order they visit the demonstrations/presentation and which ones they visit. We do ask that you move to a different area if it is crowded. There will be a signal when it's time to change to a new location. There will be a break for lunch. You can bring your lunch in coolers and it will be delivered to the lunch area. Please LABEL your cooler.
Age Range
Education Days are special days set aside for students in grades 3rd through 6th. Please, no children under this age group. Older children will be considered.
Chaperones / Teachers
We require that one chaperone/teacher attend for every 10 students. We prefer the ratio to be 2 for every 10 students. You can have more adults in your party. We do ask that you let us know how many to expect.
Hours & Lunch
This event runs from 10am to 1pm with a lunch break. Students and chaperones bring a sack lunch. Please arrive early enough to check-in and get your group organized.
Cost
Reservations are required and there is a $7 per student charge.
Chaperones and teachers are free.
Full payment is required 45 days before the event.
Small changes to your student number may be made up to 2 weeks prior to the event.
Registration
Registration is limited to 500 students so make your request as soon as possible. Submit your request via the link below. You will receive an email confirmation if we have available spots. Your registration is not final until payment is received. If we do not receive full payment 45 days before the event, your spots will be given to other students.
Refund Policy
Refunds will only be issued if the Living History park cancels the event. The only time we have canceled was due to Covid restrictions. We do not cancel if it's raining.
Parking
The coordinator will send you the details on where to park on the day of the event. This includes "bus parking." Please make sure the bus driver gets this information.
Questions
If you have questions, please contact Mary White, our Education Day coordinator, via email. achmary@gmail.com
Register Today!
Don't wait to submit your request.  Space is limited and often fills up months before the event.  You will receive confirmation of your reservation via email from the School Day Coordinator.  Your spot is not guaranteed until payment is received.